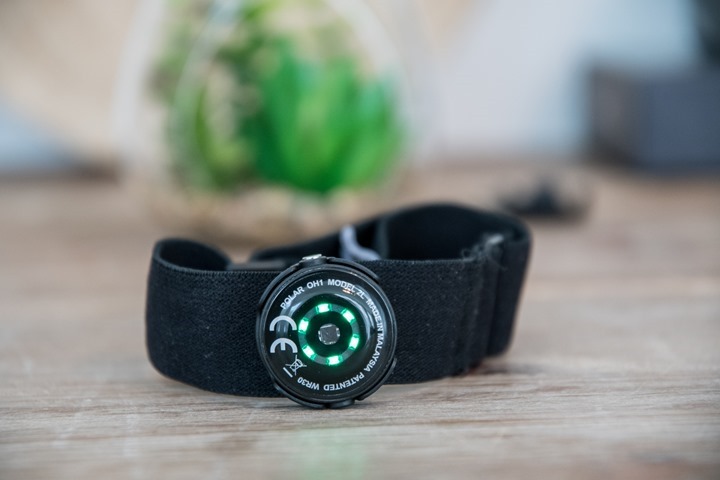 Over the past couple of years Polar has been continuing to iterate on their optical HR sensor design.  While Garmin and Fitbit (for example) have mostly kept to the same design and slowly iterated and improved it with minor changes, Polar took a different approach.  They made a slew of widely different sensors in a whole pile of devices.  Earlier this year we saw them clearly make a breakthrough with the Polar M430, and its optical sensor HR.  It was among the best I've seen in a wearable, handily tracking my HR through most activities.
And thus we get the OH1.  They've taken that sensor, ripped it out of the watch, and plopped it on an armband that can be worn with no watch at all.  Or phone.  Or anything really.  It can both transmit your HR via Bluetooth Smart, as well as store it for future workouts.
But let's not get too far ahead of ourselves.  I've got one that I've been poking at for the last few workouts, so while this isn't a full in-depth review, it'll give you a feel for things.  The review will come later this month, once I've had a chance to get more activity variation on it.
The Basics: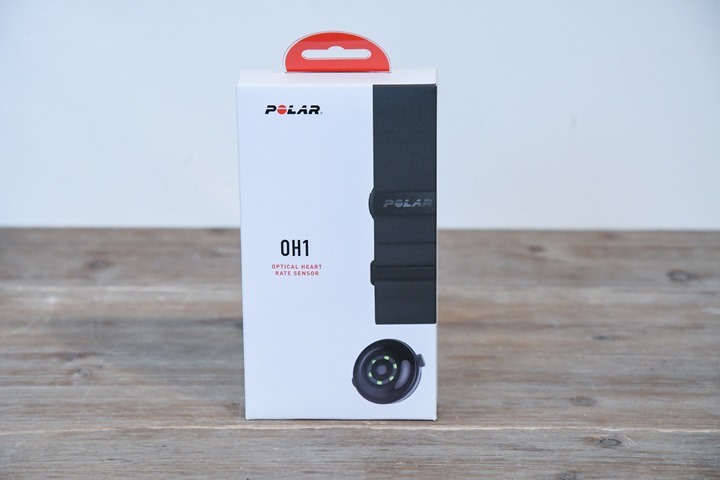 My general goal in life with heart rate sensors is not to belabor too much of the basics.  After all, it's just a small pod that reads your HR.  It's not a rocket-ship.
The unit comes in a small box with just a few parts: The arm-band, the sensor, and a USB charging doohickey.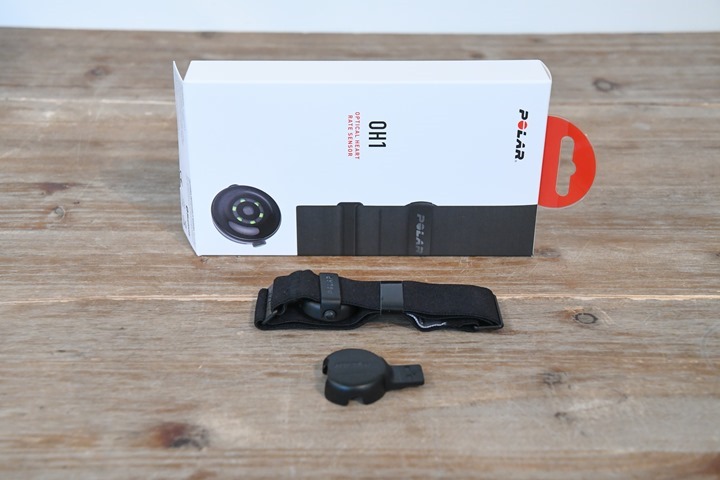 I say doohickey, because it's like a cross between a USB stick and a charging dock.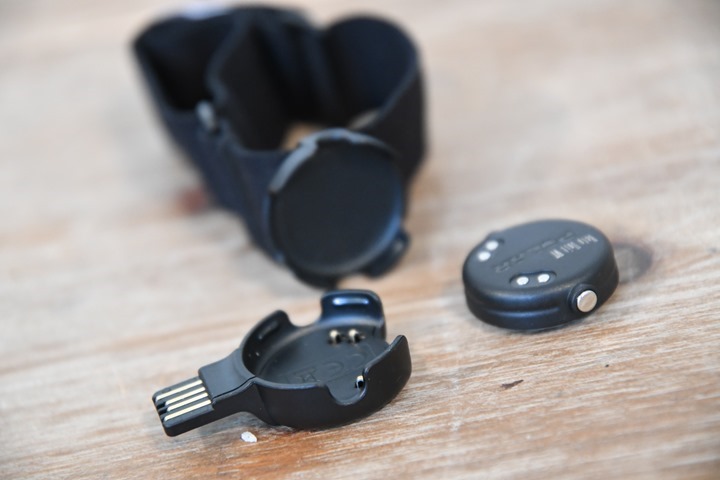 While somewhat clever, I also found it annoying because with two USB ports next to each other, it doesn't fit well when something else is plugged in.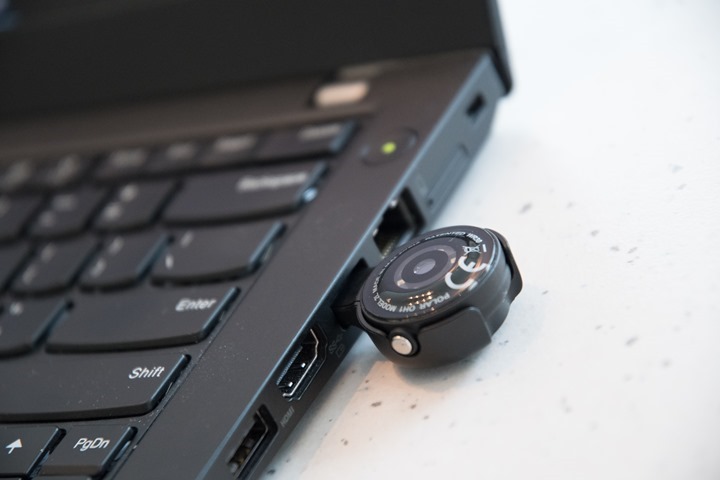 Size-wise, it's about the size of a coin.  What kind of coin you ask?  Well, if you're Euro, British, or Swiss, you're in luck. Sorry Canadians and Americans, I can't find any nickels around here at the moment.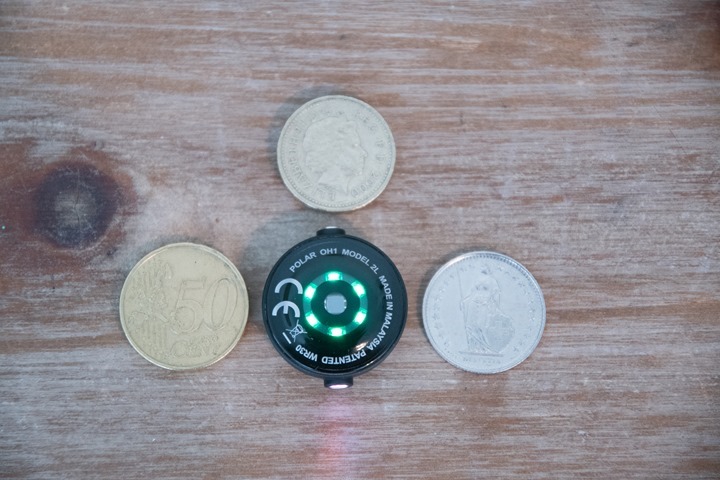 How thick you ask?  All those coins worth, and then one more: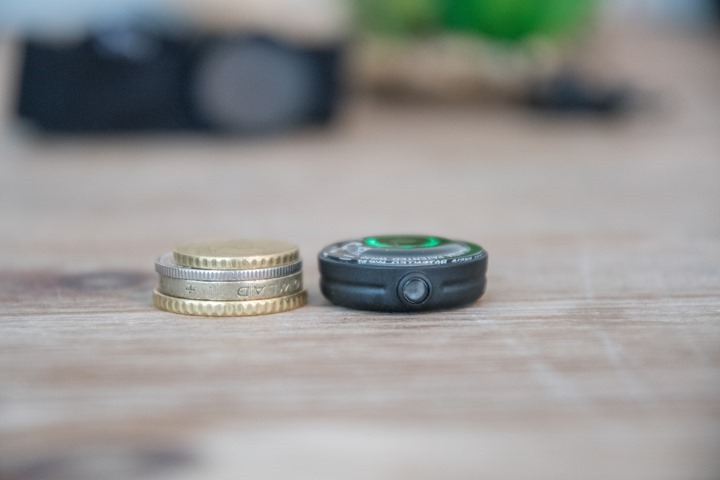 So yes, it's really darn small.
In any case, the pod will snap into the arm-band when you're ready to go for a workout. On the side there's a small button that you can turn on to enable the sensor, which will then illuminate it's six LED's green once turned on.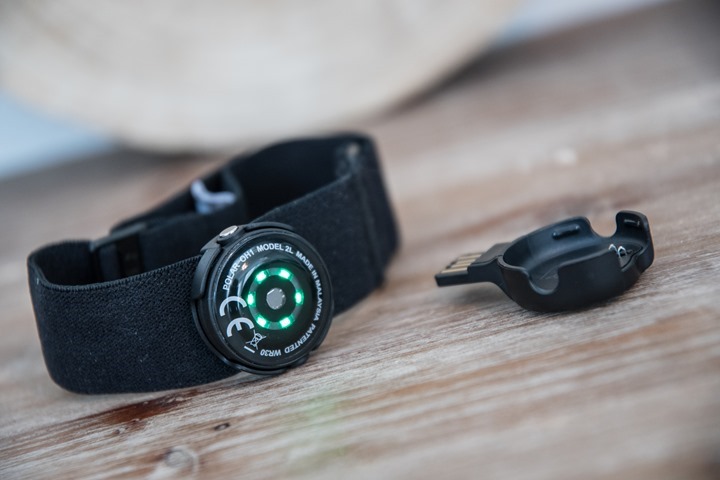 The band is adjustable, though you'll want it somewhat snug.  You can place it in any number of locations – but generally speaking I find the upper arm works bets for me.  Keep in mind that you usually want something 'thicker' to work with.  So a bony spot near your wrist is less awesome.  Some people have had luck with it directly on their forehead in their swim cap.
Obviously, you shouldn't see these LED's when you're wearing it – as if so you're doing it wrong.  They should face your skin.  However, the side will illuminate a small light allowing you to confirm operation.
Now oddity I stumbled into was that it required me 'activate' the unit with the Polar app prior to usage.  I put 'activate' in quotes because it's not supposed to, but no matter what I tried, it wouldn't broadcast my HR until I connected to the app once.  Polar doesn't know why this happened, they say it definitely shouldn't and should work straight out of the box.  So hopefully it's just a random fluke.
As part of this setup it'll ask you where you're wearing it:
Polar isn't changing any of the data processing/algorithms with this location information, but rather is using it to better understand where users are placing the device.
With all that setup, you've got two basic options with the OH1:
A) Recording + Transmission: Just wear it during a workout, and not transmit to other devices (no watch/phone).  It'll save/store the workout data for looking at later on.
B) Just Transmission: Wear it during a workout and pair via Bluetooth Smart to a watch/phone/etc.… for real-time HR monitoring
To do option A (recording on the unit), you'll tap the button twice.  Else it'll just be in broadcasting mode.  In broadcasting mode it's slated to get 12 hours of battery life.
In my case, I used it in broadcasting mode.  To really test connectivity across two competing fronts, I paired the Polar OH1 sensor to both an Edge 1030 (cycling) and a Garmin Forerunner 935 (running).  Both of these devices do support Bluetooth Smart sensors.  Of course, you still can't connect to a single Bluetooth Smart sensor at the same time from two devices (even the OH1, despite BT5 supporting it).
Note that the Polar OH1 doesn't support ANT+ sensors.  While I think this is indeed a mistake and does limit their market potential (really, it does, there's no way around this).  But I don't think it's the deal killer it would have been a year ago.  With more devices supporting Bluetooth Smart sensors, in particular Garmin's 2017 devices, it means they aren't as limited there.
Still, for anyone with a Garmin prior to this year, or older Suunto units, or even Zwift using ANT+ on your PC – this won't work.  You can simply move along to some other exciting post (I recommend one of my shark diving related ones).
In any case, while in the workout it'll transmit your HR as you'd expect to the paired devices.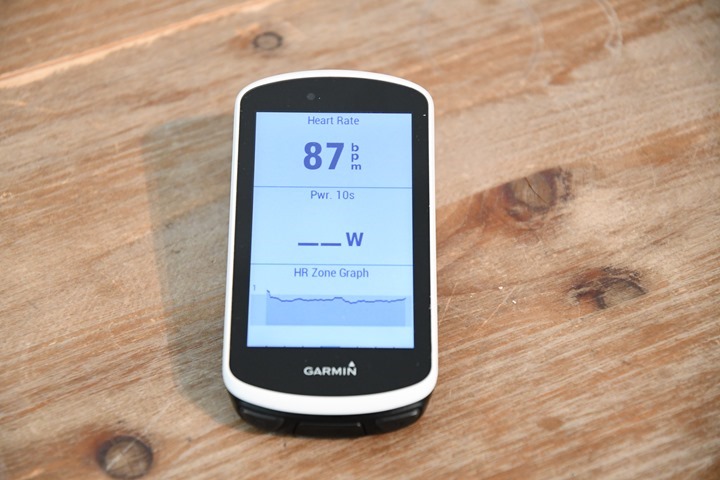 And it's basically as simple as that.  Don't worry, I'll talk about accuracy in a second.  If you did store the data from the workout instead, then you'll sync/connect to Polar Flow/Beat/Sync and let it do it's thing.  It can store about 150-200hrs of training activity this week.
Here's what that looks like from an indoor trainer ride on Polar Flow.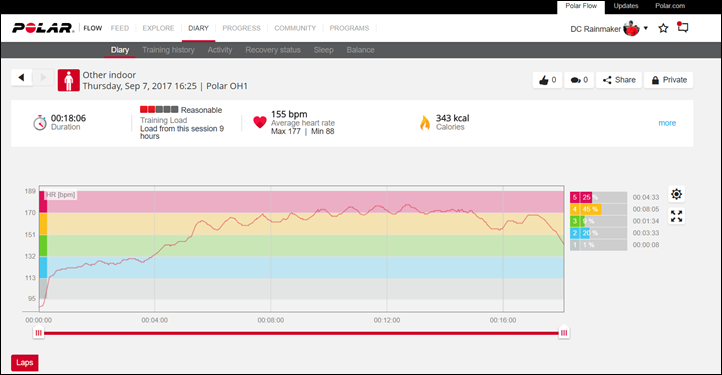 Note that while syncing, the little status light will blink blue on the unit, making it nice and easy to know it's doing its thing. Sorry, getting both the blue light to capture correctly and the screen is tricky, especially since it transfers so darn fast.  But I promise you, it's blue.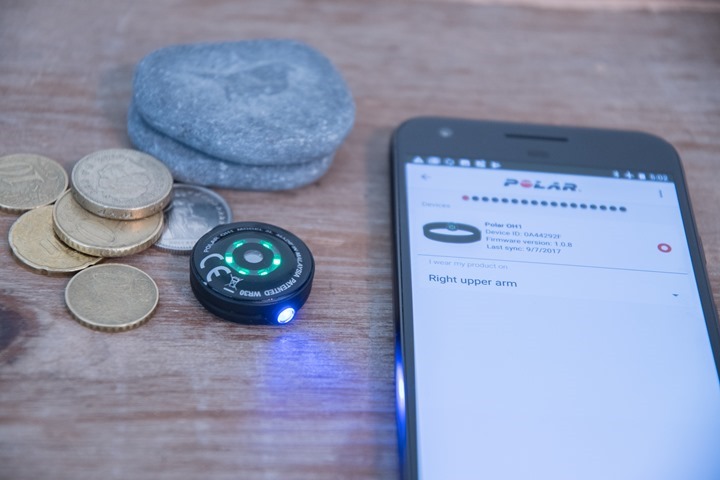 Note that for certain Polar device-specific tests that require HRV/RR interval data, the OH1 won't work.  For example this includes the Orthostatic test and the energy pointer test.  Neither will work with the OH1.
Finally, the OH1 does allow firmware updates – so expect it to iterate over time with tweaks (either optimizations or bug fixes).
Early HR Accuracy Data:
Now my intent was to have one really solid ride and one nice run to share with you.  So I paired up the Polar OH1 to the Garmin Edge 1030 and then went out for a long ride…five hours of riding.
Except one problem: Apparently while futzing around at the beginning of the ride shooting some video the Edge switched over to my TICKR-X strap (likely when I walked out of range).  As such, I didn't record squat OH1 data on that five hours.  Shame.
Instead though, I've got a run to look at it – along with a brief indoor trainer workout.  The run was a mix of steady state tempo, followed by some short intervals to mix things up.  Here's a high-level look at the run data:

In this case I was recording the following sensors:
Polar OH1 Optical HR Sensor: Recorded on the Forerunner 935
Wahoo TICKR-X HR Strap: Recorded on the Fenix 5
Garmin Vivosport Optical HR Sensor: Recorded on itself
Suunto Spartan Trainer Optical HR Sensor: Recorded on itself
In other words, just a normal run.  Why not use a Polar watch?  Simple: I was out of juice on that watch and was running out of light.  Plus – I like forcing companies to work together, and validating they do.
So, let's look at the first few minutes of the run, where all the units disagreed:

As you can see, a bit of a crap-show. Here's how I'd rank the first 2 minutes:
1) Garmin Vivosport Optical Sensor: This is the most believable plot, given I started off nice and easy
2) Suunto Trainer Optical Sensor: This started off wonky for the first 45 seconds, but then locked on nicely.
3) Polar OH1 Optical Sensor: This struggled for the first two minutes and measured low, but then locked on nicely.
4) Wahoo TICKR X: This looks like it didn't find lock till about the 2 minute marker.  My guess is I adjusted it then and then it was happy.
Now, it's easy to fret about these first two minutes, but here's the reality: Even chest HR straps struggle sometimes in the first few minutes.  They have for decades (it used to be one of my most popular posts).  So while I certainly like 100% accuracy out of the gate, I usually worry less about the first couple minutes than later on.  So let's look at the remainder:

You see here that for the steady-state portion (the next 10 minutes basically) all the units matched.  No real issues.  In fact, we really don't start seeing any differences until around the 18 minute marker.  We see some issues again with the TICKR, which was definitely positioning.  I need to tighten the strap on it, as it was sliding down.  The others are pretty close.

If you look carefully at the set you'll notice the Vivosport has a bit of a delay on the recovery pieces, whereas the Polar OH1 nails that perfectly.  As does the Suunto Spartan Trainer.  This is easier to see if you open up the actual set activity here.
For the remainder of the run, the various sensors agreed (again, minus my chest strap slipping).  So overall I'd say things did fairly well here.  And overall, ignoring the first two minutes, the OH1 did nicely.
Next, I decided to try an indoor activity, this time a trainer ride doing some 30×30 intervals (full set here to look at).  Here's the overall chart (the green one is the Polar):

The Vivosport struggled a little bit, but it was on the same wrist that I used to pickup my phone briefly at both the points where major oddities occurred.  So that could certainly have something to do with those.
Otherwise, all of them are pretty darn similar – and the OH1 and TICKR and Suunto units all virtually mirrored each other throughout the entire process.  Honestly not a lot to say there.
Finally, yes, it does claim to work in other activities, such as swimming (not for broadcasting, but to record the data).  I'm aiming to do some of those activities over the next 2-3 weeks, with a plan for a full review later this month.
Wrap Up: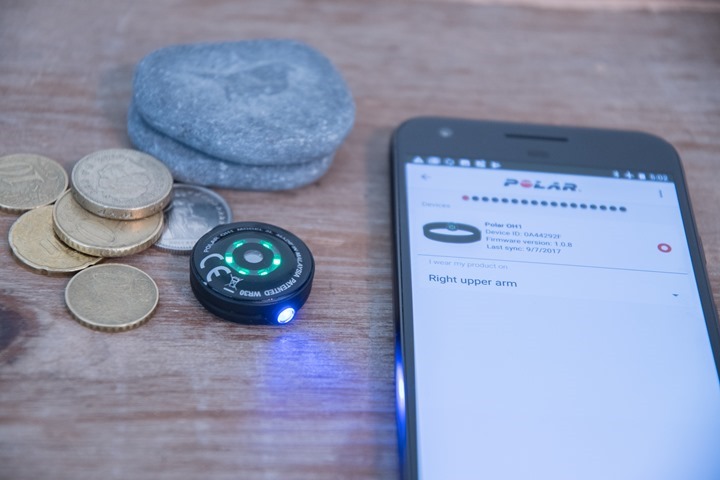 Overall, not too shabby.  If you're of the persuasion that's looking for a Bluetooth Smart only external HR sensor, this is definitely the smallest one on the market I'm aware of that broadcasts HR.  Of course, many readers know my go-to optical HR sensor is the Scosche Rhythm+ (and thousands of you have joined me).  And that too is still very solid with dual ANT+/Bluetooth Smart.
Of course, that sensor is a wee bit larger (ok, a lot larger) than this and certainly far easier to accidentally turn on than the OH1.  Also, it doesn't store any data like the OH1 does either.  So you'll want to kinda decide what things you value the most.  Pricing wise, they're both $79.
With that – thanks for reading! Feel free to drop any questions down below.
—
Side note: The OH1 is slated to ship later this month.  It's available for pre-order now, and the usual DCR Reader 10% coupon code savings (DCR10BTF) with Clever Training is good here.  Plus free US shipping and of course making yourself awesome supporting the site.