Here's a look at what I was up to this weekend, which includes a health dose of sports tech as well as a bit of fun with the family riding around!
1) So much unboxing
I can't really even begin to explain how many new products and boxes are arriving over the past few days and into next week. It's between 2-4 deliveries per day. It's nuts. Almost everything related to Eurobike or immediately thereafter. All of which requires unboxing photos, installation photos, and then in some cases videos too.
And unfortunately, most of which I can't show you. Though I can show both of these:
The one to the left is Omata, whereas the one to the right is Beeline. Both are actually unique in their head unit capabilities. Omata was announced/etc about a year ago and is a super-classy/classic looking head unit that has GPS within it (and a barometric altimeter). Whereas Beeline is more of a simplistic navigation device that lets you set a waypoint on your phone, and then it simply shows you an arrow – allowing you to be more free-form your path. It was perfect for our Sunday family bike ride across the park. More on that in a minute.
And with all these new boxes arriving, for the first time ever, I'm actually using a gigantic Excel spreadsheet to track all the new products/posts set for just the next 2.5 weeks. It currently sits at 27 rows. And I'm not even listing things I don't know about/have yet on there. It's bonkers.
2) A Quick Zwift
Friday afternoon/evening I was looking for a quick validation workout for some accuracy testing, most notably between the new Elite Direto trainer (production edition) that arrived, as well as between the Assioma pedals and the FSA PowerBox. I wanted something with some variability in wattages, but that also showed off stability.
I found a workout on TrainerRoad, but then found out that TrainerRoad still isn't working correctly with the Direto trainer (via iOS anyway, via FE-C would likely be fine).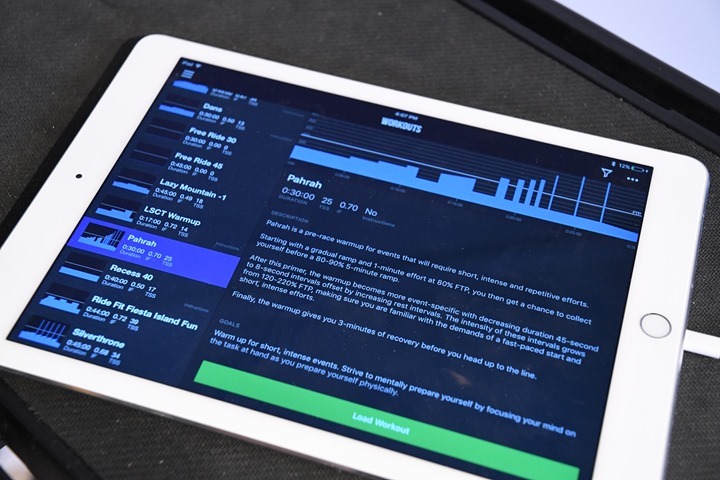 So I skipped my plan there and switched over to Zwift, where I found a functional workout (Jon's Short Mix – 30 mins long):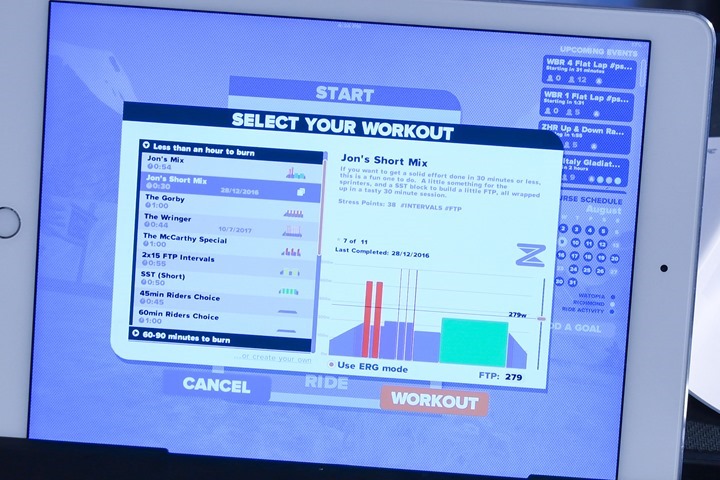 I then proceeded to knock that out. All went well. And in fact, as part of that you'll find the results in this unboxing and more video I just posted on the Assioma pedals. The video covers unboxing, weight comparisons, installation, as well as accuracy analysis of not one – but two rides! Boom!
Expect my full in-depth review of the Assioma pedals (along with other power meters) likely the week of Eurobike, give or take a few days. In the meantime, here's my preview post. The FSA PowerBox will be on a similar timetable. In case it wasn't obvious, there's going to be a crapton of power meter reviews all landing at almost the same time. Many of them I've been working on quite a bit longer (months in some cases for some unannounced things).
3) Me and My Apple
Me and my iPhone had a bit of a rough weekend together. And the only reason I bring it up is that it ended up taking a significant portion of my weekend to resolve. All of it actually. And admittedly, all of it was my fault.
It started off on Friday with me trying to update to the latest iOS Beta. I primarily use the iOS 11 beta because it allows me to record my iPhone screen as a movie (something Android has allowed apps to do for years). It's great. It's how I did the DJI Spark videos. And normally, updating to the latest beta goes without a hitch.
While my phone was low on battery, I plugged it in and let it do it's update thing. Unfortunately, in the middle of that it somehow ran out of power and corrupted things. That required a restore. But not a normal restore – rather, one first to the non-beta, then update to beta, and then restore. Oh…and my restore is 120GB from iCloud. So that took all Friday because it doesn't really take advantage of the full speed of your internet when doing so.
Fast forward to mid-day Saturday and we were out walking past the Louvre getting some pics when my phone took a flight. That shattered the screen. No biggie, the Apple Store was actually below my feet at the time (woot!. So I dropped that off to get the screen swapped out (free with Apple Care – double woot!). But that process still took 3+ hours, and left me with my phone reset yet again.
With my phone back and happy I begin restoring for the second day in a row.
Just after midnight I went to unlock my phone…and the code doesn't work. Seriously. The same code I've been using for a while, simply doesn't work anymore. After a lot of wrangling and getting my device disabled for many hours, the only fix was to actually reset the whole darn thing again.
So that process starts…again.
It's still finishing restoring, as of Monday afternoon. Sigh…
At least I'll give Apple credit here in that despite all of these things requiring a bunch of steps to fix, everything except the screen replacement was 100% self-service.
4) Sunday Ride With the Family
With the weather getting quite a bit nicer on Sunday we headed out for a ride through the Bois de Vincennes, which is the gigantic park on the eastern edge of Paris. Our friend's place that we're chillaxing in for a few weeks also has a bike with a child seat on it, so we plopped The Peanut into that and headed on out.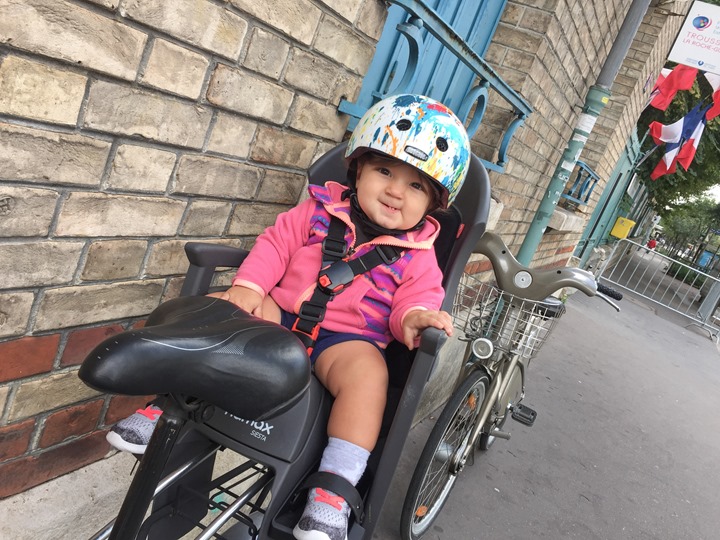 I've run through this park countless times, as well as have ridden my road/tri bikes around it and doing loops within it, but it's quite different when just rambling along slowly. The park seems so much bigger, so much more vast. You're not thinking about which turn to make next, or the most efficient way to get around, but rather…just enjoying the scenery.
Well, at least enjoying it when you aren't sleeping anyway: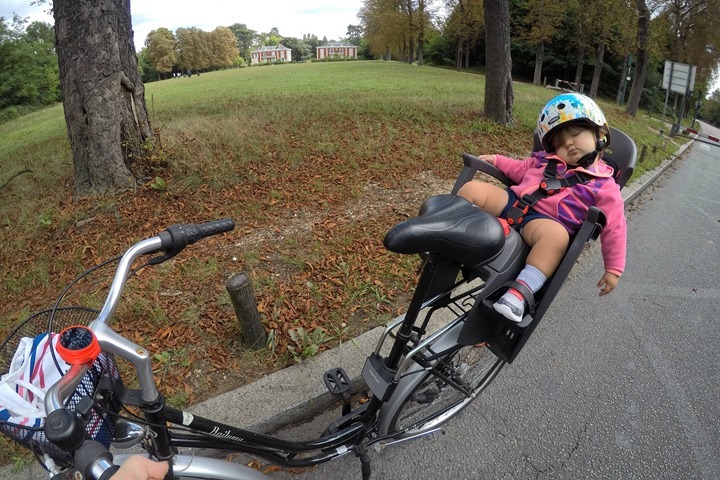 We liked this child seat (Hamax Siesta) our friends have far more than the one on our rental bike in the Netherlands. Much more support for the little one. She even has arm rests!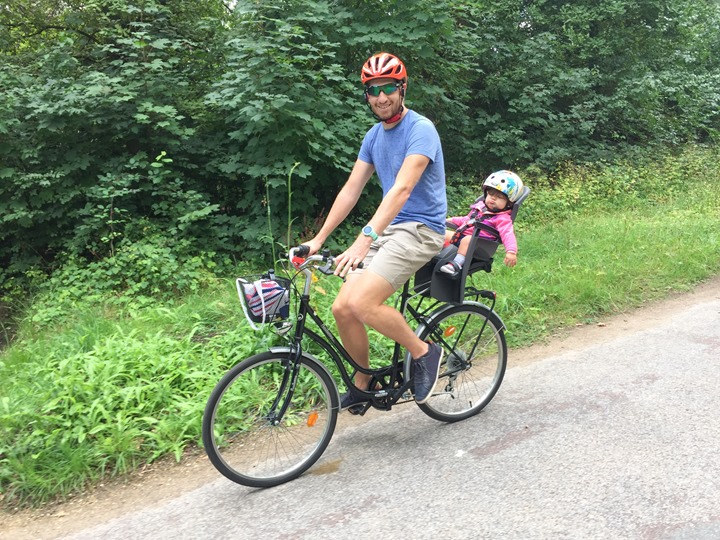 The Girl also did some aero riding on the Velib with the closed streets. On Sunday's they close down some of the streets in the park so that cyclists and pedestrians can enjoy them.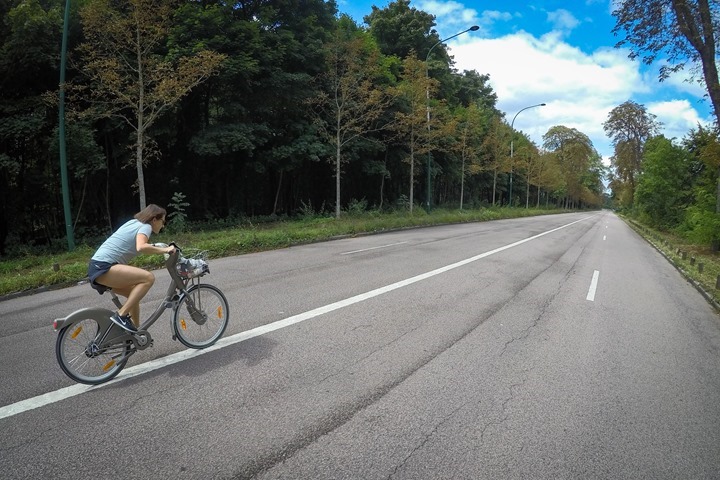 I was also playing around with Beeline, and this was really the perfect scenario for it. I placed some dots (waypoints) on the other side of the park and we could have used it to navigate. I use 'could have', because I made the mistake of de-pairing it at the start of the ride and then didn't realize that in order to re-pair it you have to remove it from the BT control panel. So I didn't get it working again till later. But then it was all good.
Normally I might have been a little less sure about when I'd use such a device, but this was a million times better than any fancy Garmin Edge or Wahoo unit would have been. We could wander as we wanted, and the arrow simply would keep us apprised of the general direction of where our destination was. Perfect!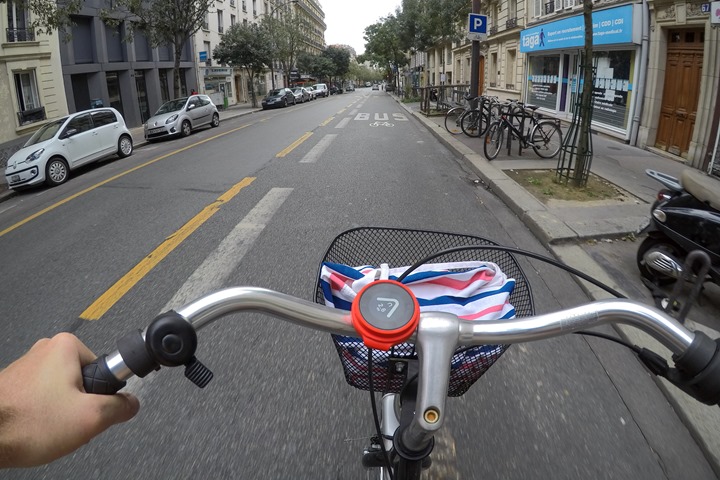 It'll also show speed, time, and battery status for both your phone and the unit, if you want. More on this next week or so.
5) Cycling out to the fields
After concluding my ride with The Girl and The Peanut, I turned back around and headed out on a solo ride to the east of Paris. Well, actually, I tried to.
First though, I found that I had dumbfoundedly managed to catch a Di2 cable inside the quick release skewer (when I swapped a wheel), effectively severing it. That put an end to any rear-cassette shifting. So I spent about an hour riding to the studio, tearing it apart, and then trying to find extra cables in the Cave that didn't exist. In the end I simply removed the ANT transmitter from the system to remove the subsequent broken cable and resume shifting. I should have done that up front. And then I found out that my PowerTap G3 hub's battery had died. So I returned again to swap that battery out.
After then…finally…I set out on my ride.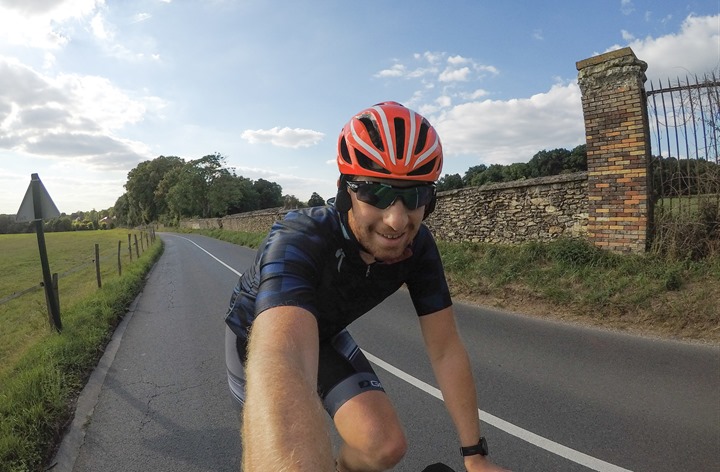 I rode east for a ways, following suggestions from a DCR reader last weekend.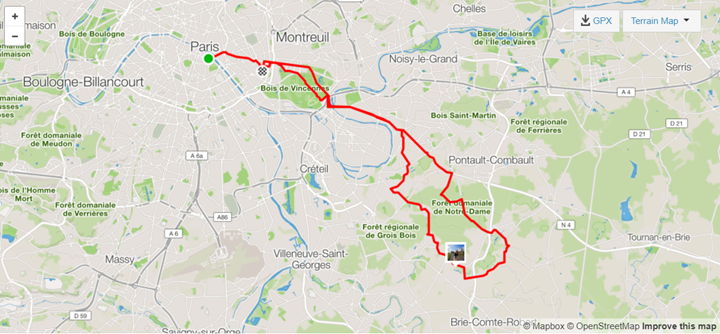 It worked out well, though I should have gone longer than I did, but with all the time losses I was burning into Peanut dinner time.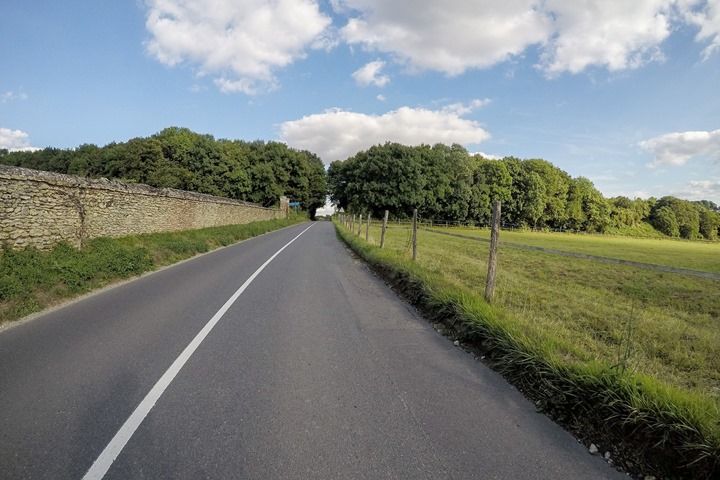 And while I generally shy away from doing off-road on my triathlon/TT bike, it wasn't too bad.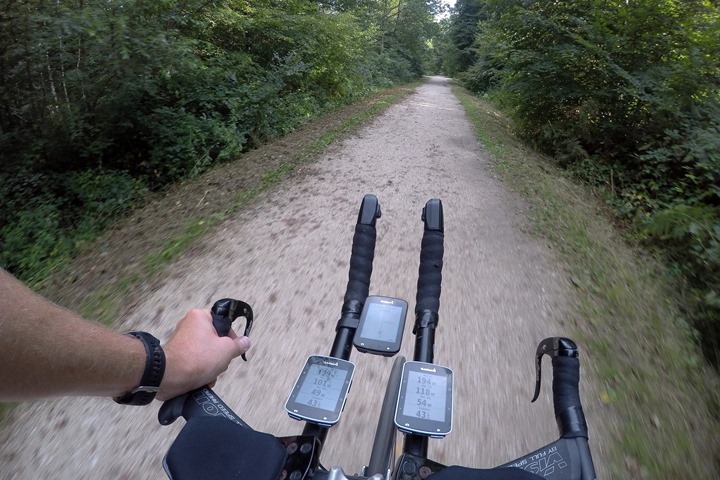 All in all a pretty solid ride, with boatloads of test data gathered across more than half a dozen devices.
Oh, and when all was said and done…I ordered a new Di2 cable.
—
With that –have a great week ahead everyone!